Bridges
Specializing in preventive patient care with a gentle touch, Dr. Polevoy is one of the premier dentists in Westchester County to complete bridge procedures. Constructed of gold or metal with porcelain, the bridging process is as painless as possible in the hands of Dr. Polevoy.
Depending on your circumstances, Dr. Polevoy will suggest one of three different types of bridges:
1. Traditional Bridge –
Made of metal or ceramics, traditional bridges involve creating a crown for the tooth or implant on either side of the missing tooth, with a pontic in between.
2. Cantilever Bridge –
The use of this type of bridge occurs when adjacent teeth exist on only one side of the missing tooth or teeth.
3. Maryland Bonded Bridges –
Comprised of porcelain teeth and gums supported by metal framework, these bridges contain metal wings on each side of the bridge that bond to your existing teeth.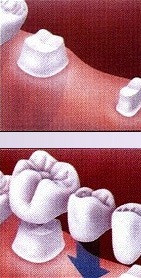 We understand the negative and often embarrassing impact of tooth loss. The way you eat, speak, and the way your other teeth are aligned becomes an issue. As your understanding and sympathetic dentist in Harrison, we ensure you no interruption in your daily life over this two-step procedure. In fact, our temporary restorations resemble your natural teeth guaranteeing your comfort and confidence while your bridge is crafted.
Procedure
The procedure begins with preparation of the natural teeth, or abutments. We will shape the abutment teeth so that the ends of the bridge will fit comfortably on each one. The next step is to take an impression of the area. This impression will be sent to our lab where your new restoration will be crafted. While this new tooth is created, we will provide you with a temporary restoration. Our temporary restorations will resemble your natural teeth so that you can continue with your daily life without worrying about a missing or unattractive tooth.
During your second visit to the office, we will proceed with the placement of your final restoration. This bridge will be fitted comfortably into the mouth. We will make every effort to ensure that the new bridge feels exactly like your natural teeth. The final step in the process is to cement the bridge into your mouth, leaving you with a beautifully restored smile.
From standard dental procedures to oral cancer screenings, Dr. Polevoy and his staff offer a vast range services in their Harrison dentist office, including: